m1nd-set in the media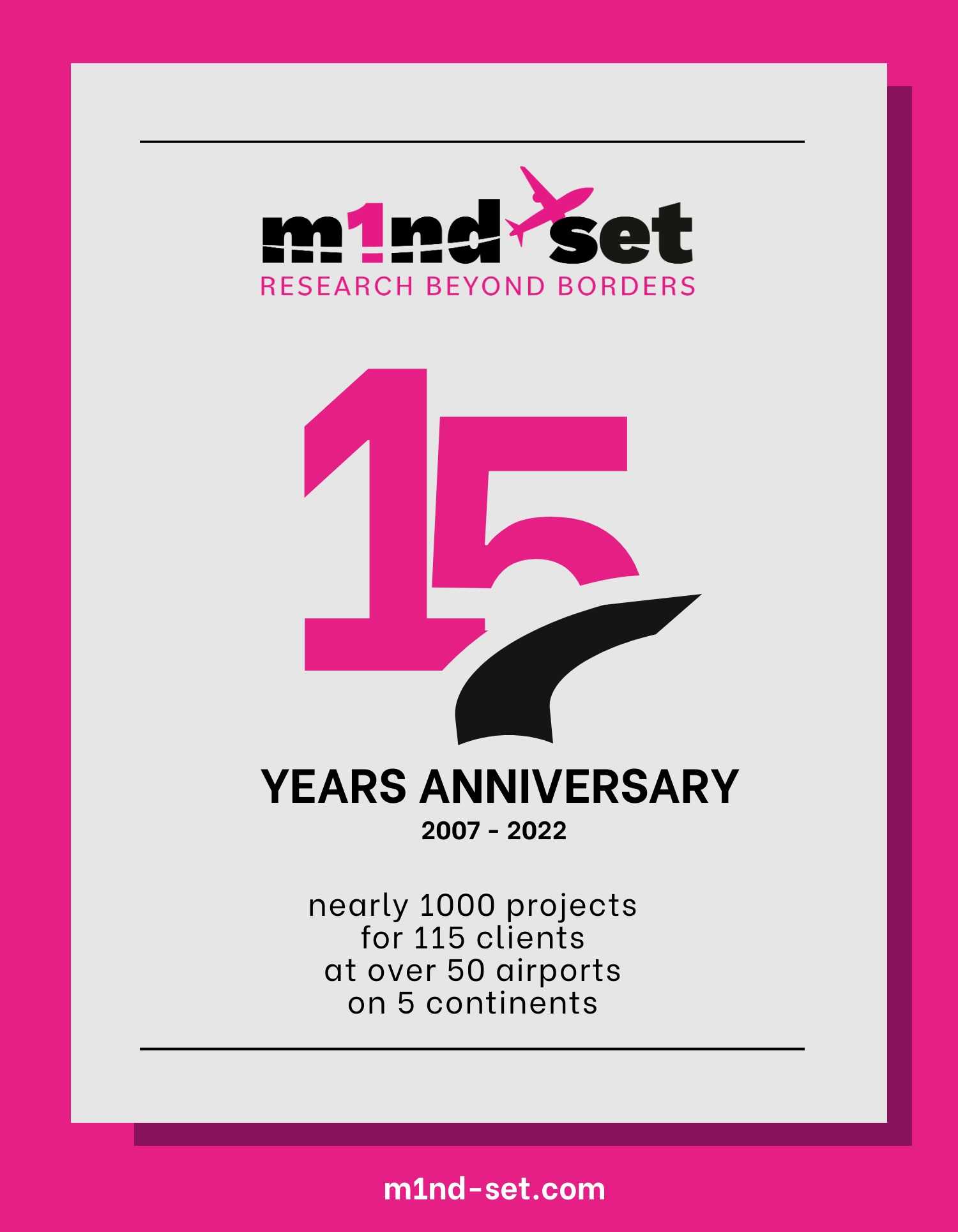 Latest news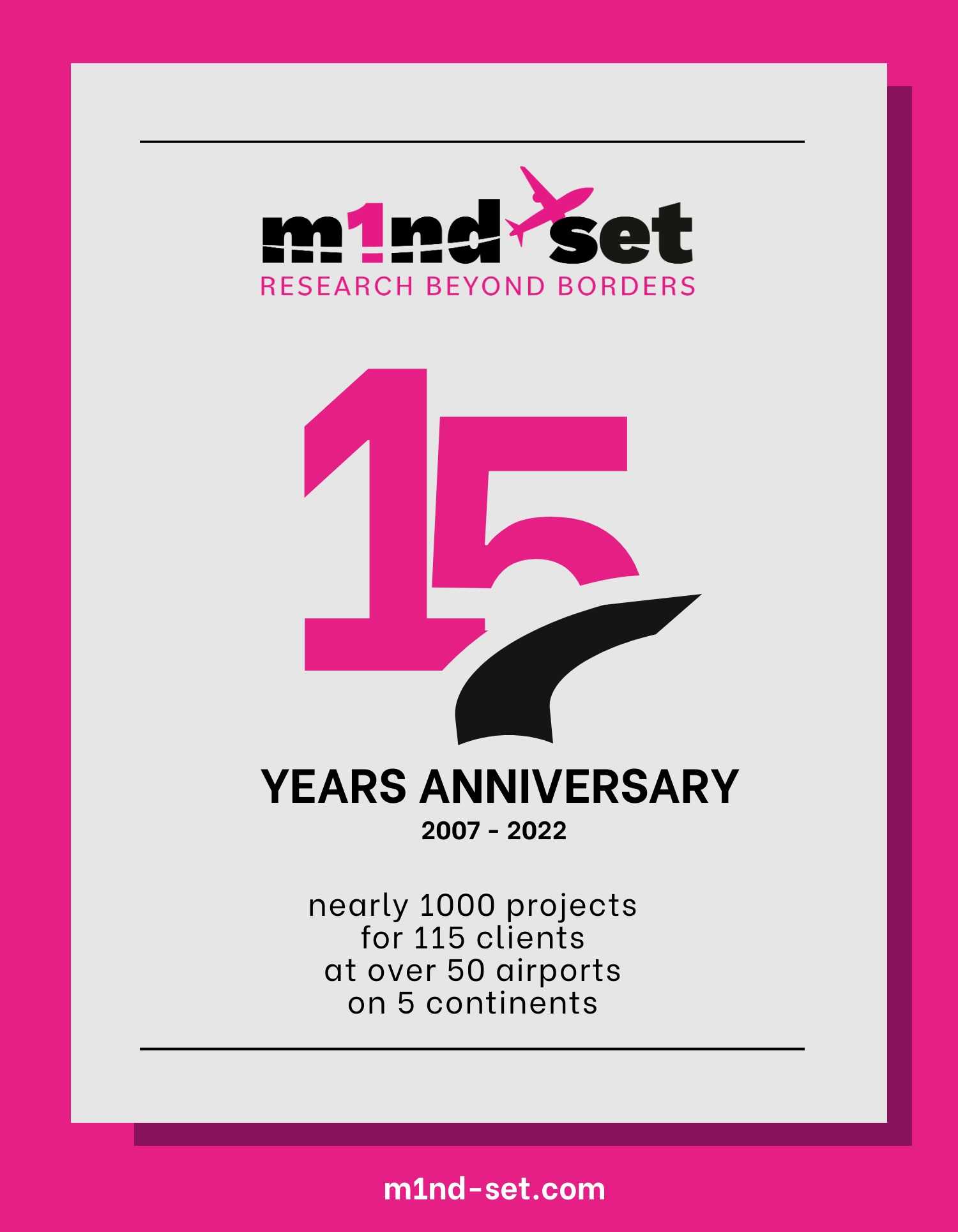 January 2022
m1nd-set marks 15th anniversary with new corporate identity
The industry leader in travel and travel retail research, m1nd-set, celebrates its fifteenth anniversary in 2022 and to mark the occasion, it has revamped its corporate identity, with a new logo and redesigned website.
December 2021

Pandemic impact on gifting in travel retail varies across regions and categories

The latest pandemic impact research on travel retail shopper behaviour from m1nd-set provides a five-year analysis (2017 – 2021) of how the share of gift purchases has changed, globally, by world region, and across all categories.

November 2021

Post-pandemic research underscores need for bespoke region-specific approach to customer

m1nd-set's second regional analysis on post-Covid shopper behaviour reveals several stark variations in shopper behaviour. The research unveils how international travellers from Europe and the Americas are influenced to purchase in duty free.

November 2021

DFNI and m1nd-set join forces in exclusive Cruise & Ferry Insights Partnership

DFNI and m1nd-set will present exclusive research at upcoming industry events including the Summit of the Americas in Palm Beach, Florida and the DFNI Cruise Conference 2022 in Barcelona

November 2021

m1nd-set Hainan series: Top 5 reasons shoppers choose Hainan DF shops

'Relevant, reliable and reputable' this monthly executive digest offers invaluable need-to-know data and research on what has been described as a modern-day 'duty free paradise. For more information on m1nd-set, contact: amarchesini@m1nd-set.com

November 2021

Real step change' in wines & spirits recovery expected in Americas first – 1nSpirit

At last week's TFWA World Exhibition in Cannes, IWSR and Clara m1nd-set provided a comprehensive update on the evolution of the beverage alcohol business in global travel retail, powered by the companies' joint venture data and research tool, 1nSpirit.

October 2021

Healthy revival among Asia Pacific and Middle East shoppers

The latest consumer research from m1nd-set unveils how Covid has impacted the way Asia Pacific and MEA travellers shop and are influenced to purchase in duty free. The report also reveals category purchasing, average spend and path to purchase.

October 2021

m1nd-set launches 'Monthly Hainan Insights' exclusive to TRBusiness

We are delighted to announce the new m1nd-set 'Monthly Hainan Insights' series: 'Relevant, reliable and reputable' this monthly executive digest offers invaluable need-to-know data and research on what has been described as a modern-day 'duty free paradise'.

September 2021

TR Consumer Forum: Praise continues to flood in

The Travel Retail industry has hailed the return of in-person business networking after the Travel Retail Consumer Forum, co-organized by m1nd-set and TRBusiness ignited the first successful industry event of its scale for almost two years.

September 2021

m1nd-set exclusive 2021 cruise research – DFNI Cruise Conference

m1nd-set's Head of Business Development Anna Marchesini shared insights on the new generation of cruise travellers, looking at changes vs pre-Covid shopping behavior and expectations on-board.

September 2021

Time for change: consumer demand drives conscientious and responsible luxury retail

Covid has fundamentally changed the way luxury shoppers behave: the latest consumer research from m1nd-set explores how these changes are impacting the luxury retail sector today and how TR will need to adapt new consumer expectations.

September 2021

Forum: 150-plus delegates to gather in London

In excess of 150 travel retail executives will descend on London, UK next week to enjoy a raft of exclusive consumer insights courtesy of the inaugural Travel Retail Consumer Forum (20-22 September), hosted by TRBusiness and m1nd-set.

September 2021

TR Consumer Forum: Exclusive data as 1nSpirit workshop anticipation builds

During the 1nSpirit workshop of the TRCF, IWSR and m1nd-set revealed the latest insights in travel retail for beverage alcohol, looking at channel performance in 2020 and future expectations. For more information about 1nSpirit please contact info@m1nd-set.com.

August 2021

m1nd-set research unveils Hainan potential and opportunities

m1nd-set research conducted over recent weeks among Chinese consumers, who have travelled to/from Hainan, provides a long-term picture with projected traffic growth and analyses both the travelling and shopping behaviour of domestic Chinese tourists who have visited Hainan.

September 2021

A new focus for jewellery and watch shoppers in travel retail

Covid-19 appears to have concentrated the minds of jewellery & watch shoppers who are now visiting stores less, but buying more often, according to insights from m1nd-set. This group of shoppers has also risen in popularity after the pandemic.

August 2021

m1nd-set Spirits & Tobacco Report: key takeaways

Americas Duty Free & Travel Retailing Magazine connected with Peter Mohn, Owner & CEO at m1nd-set, for an update on Spirits & Tobacco shoppers in TR, featuring shopper insights research based on face-to-face and online recruitment from around the world.

August 2021

EXCLUSIVE: Top 10 Airports claw back ground after 2020 fallout for DF&TR

Read m1nd-set's insights on international departures and shopping behavior for the globe's top 10 airports of Duty Free & Travel Retail sales pre-pandemic (2019), available on TRBusiness' annual report in the July / Augusr e-zine.

August 2021

Travel Retail Awards 2021

TRBusiness and Swiss consumer research agency m1nd-set are delighted to announce the product categories and airports finalists and winners for the consumer-voted 2021 Global Travel Retail Awards.

July 2021

Delhi and Incheon Airports top list for AsPac departures in first quarter 2021

DEL Airport took the highest share of international departures air PAX among Asia Pacific's airports in Q1 2021, according to a ranking of the region's top 20 airports by m1nd-set. The research contains also shopping behavior insights for AsPac.

June 2021

Post-pandemic megatrends unearthed in latest m1nd-set research

m1nd-set research explains some mega trends emerging after the pandemic, among which tracking of human behaviour both physical and online, more targeting technology leading to greater personalisation, increase in contactless shopping experiences and greater focus on sustainability.

June 2021

ETRC Q2 recovery monitor highlights the importance of consumer communications

European travellers are paying significantly greater attention to marketing messages and brand communications according to the latest insights from the second quarterly recovery monitor published for the European Travel Retail Confederation (ETRC) by Swiss research agency m1nd-set.

June 2021

Bahrain sets sights on return of Chinese tourists

Prioritizing an important market like China to restart its pandemic-hit tourism sector can yield huge opportunities for Bahrain. According to a report by m1nd-set, China's international travel segment is expected to return to pre-COVID-19 levels by 2023.
Tags
1nSpirit
Africa
Airports
Alcohol
Americas
Asia Pacific
Awards
China
Covid
Covid impact
Cruise
Digital
Europe
Ferry
Gift
Hainan
Impact
Jewelry
Luxury
m1nd-set
Mega trends
Middle East
Online
Pandemic
Recovery monitor
Revival
Spirits
Sustainability
Tobacco
TR Consumer Forum
Watches
Register for our newsletter
Don't miss out on Travel Retail's latest consumer insights